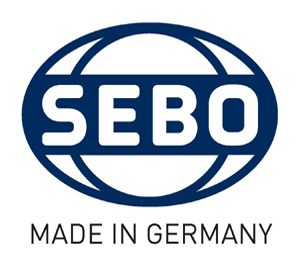 Made in Germany, SEBO offers the world's best vacuum cleaners for pet hair removal, allergy and asthma relief, ease-of- use, and reliability.
WORLD'S BEST VACUUMS FOR A CLEAN AND HEALTHY HOME!
In 1978, two engineers founded SEBO in Velbert, Germany. Since then, SEBO has become the most important manufacturer of high-quality, commercial vacuum cleaners in the world, with sales in Europe, Asia, Africa and North America. Millions of SEBO vacuums have been sold to hotels, hospitals, schools . . . even The White House!
World's Best Pet Vacuums – Because of superior power-head and brush-roller technology, SEBO vacuums are the world's best for pet hair removal! Excellent for Users With Allergies or Asthma – The British Allergy Foundation recommends SEBO filters.
SEBO was the WORLD'S FIRST  Vacuum Manufacturer to Introduce:
An integrated suction hose on an upright vacuum.
A timing-belt-driven brush with clutch protection.
A dust bag that fills from the top, followed by a microfilter and then the motor. An electrostatic microfilter.
An electronic brush control and safety shut off.
A soft bumper on a canister vacuum, which protects furniture and walls from damage.
An electronically controlled automatic height adjustment, S-class filtration, and a detail wand with telescopic hose.