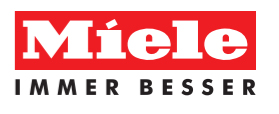 MIELE BRAND vacuums are the number one vacuum on the market. They have won the 2016 Reviewed.com Best Vacuum cleaner award for their Complete C3 canister and Consumer reports rated the C3 Marin the number one vacuum this year. All of the Miele vacuums have earned the Good Housekeeping seal, and are consistently rated in the top five in surveys and reviews.
For anyone with allergies, or pets, Miele is the best vacuum for you.
The C3 line has a sealed system, with along with a Hepa Filter, 99.97% of dust and particles are gotten out of your air and trapped in the vacuum. Their bags have a flap on the bag that keeps dust inside when changing your bag. The premium quality twister parquet floor brush attachment is the best tool for wood floors and their adjustable height power heads give you the best optimal cleaning setting depending on your need. Pet hairs do not stand a chance.
Miele has been an independent family-owned company since its establishment in 1899 and is equally committed to its owners, employees, customers, suppliers, the environment and society.
Miele offers products to its customers that set the standards for durability, performance, ease of use, energy efficiency, design and service. This corresponds to the guiding principle "Immer besser" which the founders Carl Miele (left) and Reinhard Zinkann printed on their first machines - and which characterizes Miele to this day.

The Authorized Dealer Difference 
Miele HomeCare Dealers offer product expertise and an optimal shopping experience.
Personalized Consultation
Meet with one of our experts who will help you find the perfect fit.
Designed for You
Individualized, unrushed
attention and service.
Exclusive Features
Miele HomeCare vacuums feature additional accessories and tools just for your needs.
More Options
With various models and tools to choose from, Miele HomeCare Dealers will ensure you don't leave empty handed.
Ongoing Support
HomeCare Dealers will provide expert service even after the sale.
Come Take a Test Drive
HomeCare Dealers allow you to try each of our exclusive products.
Our best warranty in the HomeCare Line
Offering a 5-Year Warranty on all parts and labor.
5-Year Warranty
on Parts and Labor